The Collection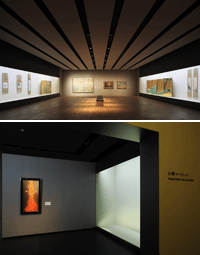 The List of Works on the Google Art Project
The Yamatane Museum of Art is proud to be a part of the Google Art Project, which allows you to navigate the collections and interiors of the world's leading museums. See the art work as you never have before: zoom into the high-resolution photos to see surprising details, do side-by-side comparisons of individual works, and curate your own collection of artwork from the world's leading museums. Please enjoy the beautiful world of Japanese arts!
The museum's collection of over 1,800 works is centered on modern and contemporary nihonga from the Meiji period on. It also includes classic calligraphy, early modern paintings, ukiyo-e, and Western-style paintings. Works that have been designated Important Cultural Properties, six in total, are Court Ladies Enjoying Wayside Chrysanthemums by Iwasa Matabei (1578-1650), View of Mt. Kunō, by Tsubaki Chinzan (1801-1854), Tabby Cat, by Takeuchi Seihō (1864-1942), Nude, by Murakami Kagaku (1888-1939), Dancing in the Flames and Camellia Petals Scattering by Hayami Gyoshū (1894-1934). They are joined by Important Art Objects such as Autumn Plants and Quails by Sakai Hōitsu (1761-1828). In addition to 120 paintings by Hayami Gyoshū and seventy by Kawai Gyokudō (1873-1957), the Yamatane collection is also known for its 135 works by Okumura Togyū (1889-1990), including the majority of the paintings he showed in the postwar Inten (Japan Art Institute Exhibition), such as Maelstroms at Naruto and Cherry Blossoms at Daigo-ji Temple. The collection also numbers works by artists who must be included in any discussion of modern nihonga, including Sakuemon's House and Divine Spirit: Mt. Fuji, by Yokoyama Taikan (1868-1958), Ancient Pine Tree and White Wisterias, by Shimomura Kanzan (1873-1930), Scene from the Noh Play Kinuta, by Uemura Shōen (1875-1949), Agalloch Pillow, by Kaburaki Kiyokata (1878-1972), Scenes from the Legend of Kiyohime, a set of eight paintings by Kobayashi Kokei (1883-1957), Oda Nobunaga Dancing before His Departure for the Front, by Yasuda Yukihiko (1884-1978), Yoshida Shōin in Rendai-ji Temple near Shimoda, by Maeda Seison (1885-1977), Maelstroms at Naruto, by Kawabata Ryūshi (1885-1966), and End of the Year, by Higashiyama Kaii (1908-1999).
* To conserve the works in its collection, the Yamatane Museum of Art does not have a permanent exhibition. It holds special and thematic exhibitions five or six times a year.
* Please consult the Current Exhibition page to confirm which works are presently on display.
click thumbnail to enlarge

Iwasa Matabei
Court Ladies Enjoying Wayside Chrysanthemums
(Important Cultural Property)

Sakai Hōitsu
Autumn Plants and Quails
(Important Art Object)

Tsubaki Chinzan
View of Mt. Kunō
(Important Cultural Property)

Takeuchi Seihō
Tabby Cat
(Important Cultural Property)

Yokoyama Taikan
Sakuemon's House
Uemura Shōen
Scene from the Noh Play Kinuta

Kobayashi Kokei
Scenes from the Legend of
Kiyohime: Hidaka River

Murakami Kagaku
Nude
(Important Cultural Property)

Okumura Togyū
Maelstroms at Naruto

Okumura Togyū
Cherry Blossoms at Daigo-ji Temple

Hayami Gyoshū
Dancing in the Flames
(Important Cultural Property)

Hayami Gyoshū
Camellia Petals Scattering
(Important Cultural Property)